XenData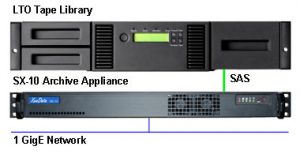 SX-10 Archive Appliance
The XenData SX-10 appliance manages a robotic LTO tape library or stand-alone LTO tape drives and creates a cost effective digital video archive that is ideal for video production and post production applications.
The SX-10 runs XenData6 Server software on a Windows 7 platform and scales to 125 TB of near-line LTO. It is available in 6 standard configurations – supporting from a single stand-alone LTO tape drive to a 50 slot LTO tape library with up to two internal LTO-6 drives.
The LTO cartridges written using the SX-10 are self-describing and may be transferred between systems running XenData6 Server and XenData6 Workstation software.
The SX-10 connects to a network, as illustrated below, and files are archived to and restored from LTO just as files are transferred to and from a standard network share. The system supports the CIFS/SMB network protocol and FTP.
Application Compatibility
Offering broad compatibility, the SX-10 archive can be used simultaneously by multiple standard applications and works with most MAMs and NLEs.
Adobe Premiere and Apple Final Cut Pro 7 users can archive directly to the SX-10 without any additional software. Users of Avid Media Composer may easily archive projects and sequences by adding Parking software from Marquis Broadcast. The SX-10 supports both Windows and Mac clients and it may also be accessed from any client type using FTP.
In addition to file transfers from MAMs, NLEs and other applications, files and folders may be manually archived to and restored from LTO using Explorer on a Windows client, Finder on a Mac or by using an FTP utility.
Key Functionality
Standard File System Interface
The digital archive accepts all file types and presents them in a single Windows file system. Files are archived to and restored from LTO just as files are transferred to and from a standard network share.
Windows and Mac Compatibility
Windows and Apple OS X clients are natively supported without need for loading any client software.
Standard Network Protocols
The solution is optimized for CIFS/SMB and FTP file transfers.
Manages 3 TB Nearline Disk, Up To 125 TB Nearline LTO & Unlimited Offline LTO
The administrator defines policies for disk caching that can be tailored for different file types and folders.
Standard POSIX tar tape format
The archived files are written to LTO tape using the standard POSIX tar format. This means that, in addition to using XenData software, files may be restored using a wide range of Linux and UNIX operating systems.
Optimized Restores
The system restores a queue of files in the shorted possible time. The restore requests are processed in an order that minimizes unnecessary tape movement.
File Version Control
The archive server provides comprehensive file version control. Deleted files and old file versions may be restored from tape (unless the files have been purged using a repack operation).
Automatic Tape Replication
The system automatically generates replica data tape cartridges that may be exported from the library for off-site retention. Furthermore the tapes may be rapidly imported into a replica DR system.
Industry Standard File Security
The archive server integrates fully with the Microsoft Windows security model based on Active Directory.
Partial Read of Large Files
With very large files there is often a need to read only a portion of the file. For example, this frequently occurs with multi-gigabyte video files when a short clip is requested. The SX10 supports partial reading of large files based on byte offset.
Repack of Tapes
This copies only current files, excluding deleted files and old versions of files, to new tapes. Benefits: permits recovery of capacity from rewritable tapes; also provides ability to easily migrate to future generations of LTO.
Transfer of Content between Systems
Export and import functions allow content to be easily transferred from one location to another.
Supports WORM Tape
The system supports both standard rewritable data tape and unalterable WORM. The use of unalterable WORM tape cartridges is especially important for legal compliance applications.
Tape Contents Reports
The files contained on any tape, including offline tapes, can be listed in a report which may be exported to Excel.
Metadata Backup and Restore
A file system metadata backup and restore utility provides rapid system restore in case of rebuild after disk failure.
Alert Module
A software module is included which provides e-mail and on-screen alerts. These are tailored to the needs of archive system operators, system administrators and IT support personnel.