Integrated Add-On for Cinegy Air Real-Time CG & Branding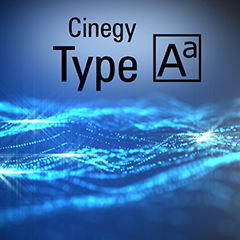 In today's broadcast environment Character Generators (CG) are an important part of communicating messaging and branding to a television audience. Whether it's a simple piece of crawling text or a complex animation with dynamic content, these tools are essential for modern Television broadcast. Cinegy Type is the new software-based CG and branding option available for extending Cinegy Air.
Cinegy Type allows the addition of multiple layers of automation controlled, template based titles, logos, animated graphics, and more. From simple ticker tapes and lower thirds to multi-layer character animations Cinegy Type includes a whole range of advanced effects and features. This module addresses simple requirements such as logo insertion right through to complex branding with templated information and animated video plates.
With broadcast automation controlled scheduled playout, sequences are often changed or modified right up to the last minute, or even during playout. With Cinegy Type you can make changes on the fly. Simply turn items off (pure pass thru), turn parts on/off (e.g. logo), or invoke certain templates, plates or other titles manually independent of the automation schedule.
Use the template editor to build complex visual scenes, harnessing the full power of the Cinegy Type engine. Allow users to alter specified elements in a pre-created template using the simple and intuitive template viewer – letting production staff easily utilize the work of the graphical design team.
The Cinegy Type template builder and title designer allows you to build creative templates offline with all the effects and features required to make professional templates quickly and easily:
Add basic effects to text, such as a shadow, border, glow or bevel, change the color and transparency.
Control the way text appears, change the position, rotation, color or size or add effects such as typewriter, flash, alpha.
Add stationary, crawling or rolling text, with either static or templated content.
Apply an automatic size control effect to text for neat appearance as content changes.
Insert logos, pictures or animations with a range of supported formats.
Create text variables which can be changed just before playout.
Items can be played once, run on a loop, or ping pong from left to right.
Add up to six layers for complex compositions involving multiple objects.
Create masks and dynamically occlude text and video.
Use a simple macro language to automate metadata display direct from the playlist.
Simple logo insertion or animated logo insertion
Simple marquee with templated information
Program announcements e.g. now and next, or coming up notifications
Lower thirds for name captions for talking heads
Artist captions for music videos
Breaking news or similar 'flash' item inserts
Stay tuned messages, e.g. advertising the next item or a new season of a television show with pre-rendered animated effects
Supported TV formats
Ultra High Definition 25/30fps
High Definition 1080i, 720p
Standard Definition PAL and NTSC
Recommended codec for realtime animation
Supported SDI I/O boards for fill & key output
You can learn more about Cinegy Type here: