The Most Flexible Multiviewer Ever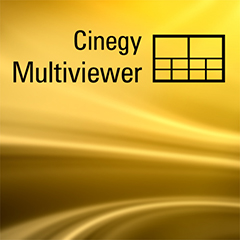 Streams from satellites, camera feeds, playout devices and other local or remote sources all need to be monitored. Cinegy Multiviewer displays these signals before analyzing them and raising alerts for any detected signal problems. Running as a service operating on commodity IT equipment, video streams can be received over IP via Ethernet or using standard SDI cards.
Cinegy Multiviewer enables broadcasters and production houses to monitor streams from satellites, camera feeds, playout devices and other sources locally and remotely. Featuring a robust analysis and alert system, detecting signal problems as they occur, Cinegy Multiviewer runs on commodity IT servers or workstations receiving RTP/UDP streams via Ethernet or uncompressed video using standard SDI cards from vendors such as AJA, BMD, DVS or Deltacast. Decoding support for MPEG-2 / H.264 up to 4K in full 4.2.2 color, along with MPEG audio, AAC-HE2 and Dolby Digital / AC-3 decoding is built in – with Dolby E decoding available as an option.
Fully customizable
Cinegy Multiviewer can easily adapt to your requirements with a fully customizable interface that can be designed using a WYSIWYG multi-layout editor. Cinegy Multiviewer can drive two full 4K UHD monitors, providing enough real-estate and video resolution for even the most demanding control room. For those times when the control room is not near the equipment, or the viewer is not in the control room, Cinegy Multiviewer supports full RTP retransmission of the output screen in up to 4K 4:2:2 resolutions, making any of the configured multiple layouts viewable anywhere in the building or in the world with remote control via a web interface.
Saving costs
Cinegy Multiviewer can receive single program or multiplexed feeds (MPTS) from standard satellite or cable receivers, relaying entire transponders via RTP/UDP onto the network, dramatically reducing the number of IRDs required for monitoring return feeds. Cinegy Multiviewer also supports local SDI inputs for low-latency SDI signal monitoring.
Versatile monitoring
Cinegy Multiviewer displays channel name, audio level indicators, as well as real-time video previews, playing the incoming video at full frame rate. In addition, the alarm indicators display signal presence of audio and video, VANC components (CC, AFD, V-Chip), while VU meters dynamically show all present audio channels (stereo, 5.1, etc.) and LKFS loudness with Dolby DialNorm. If any signal component is outside defined parameters, a corresponding alarm indicator lights up, log entries are generated and a predefined alert is sent via email, SNMP, HTTP or API. If your stream contains Closed Captions or DVB subtitles, Cinegy Multiviewer can decode and display these in-place over the related video.
Scalability
Cinegy Multiviewer is ideal for local and remote operations. It can be massively scaled from just a few to hundreds of channels while remaining fully supported in a cloud-based or hosted service environment.
Cinegy Multiviewer is very easy to manage due to its fully customizable interface where each channel input representation is equipped with a set of preview components and indicators. It allows an operator to monitor as many channels as needed, indicating the real-time status of each channel and a view of the resulting video from any station in the network, in any part of the world.
The Multiviewer output also supports fully-customizable designs with multi-layout views of sources with an integrated, intuitive layout designer – all of which when deployed can be rendered directly to a standard screen or even recompressed and streamed back to the network.
Supports SD, HD or UHD/4K sources
Multiple SDI inputs or MPEG-TS IP streams
DVB subtitles decoding
608/708 closed captions decoding
Dolby Digital and Dolby E audio decoding
LKFS loudness monitoring and alarming
Alarms via e-mail, SMS or HTTP
VANC, AFD and V-Chip indicators
Local UHD screens output
Screen layout streaming to MPEG-TS
Remote control via HTTP
Fully customizable layouts
Supported MPEG-TS sources
Video: MPEG-2 and H.264, 4:2:0 and 4:2:2 color space
Audio: MPEG-audio, AAC-HE2 and Dolby Digital / AC-3
Supported SDI boards
AJA Kona LHe Plus, AJA Kona LHi, Corvid series
Blackmagic Design DeckLink series and Intensity PRO
DVS Atomix LT
Deltacast DELTA-hd series
Learn how to work with Cinegy Multiviewer using the following links to a product documentation:
Watch video tutorials on Cinegy Multiviewer: