Broadcast teleprompting software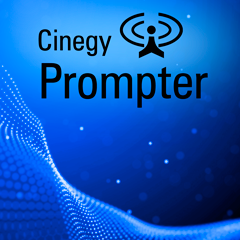 The Cinegy Prompter software runs on any commodity or tablet Windows-based PC and is compatible with many standard teleprompter hardware devices available on the market.
It automatically receives those text blocks which are marked as Anchor and allows to play them with pre-defined speed. Either the operator or the presenter can adjust the speed with a jog-shuttle, pedal or keyboard. The text block can be previewed or even edited any time before it has been started. Video output can be mirrored vertically, horizontally or even switched to Right-To-Left mode if required. Font type, size and color can be changed according to your anchor's preference.
Cinegy Prompter is highly integrated with the Cinegy Archive newsroom solution and automatically receives all the updates from the database once the changes are made in Cinegy Desktop. Cinegy Prompter can play the story not only on the locally connected display, but also distribute it across entire production network via MPEG-TS streaming output – which makes it probably a unique solution on the market.
Pure software solution for any Unicode language
Compatible with your existing hardware
Customizable font, colors and shortcuts
Real-time speed control
Horizontal and vertical mirroring
Countdown timers for the anchor
Full-screen output to a local display
Stream to network in MPEG-2 or H.264
You can learn more about Cinegy Prompter here: